THEY WERE JUST FOUR FREAKS…

Lokat

— the master of subterfuge; a suave seducer of man and beast

Dr. Rokat—a diabolical genius obsessed with musical manipulation

Zancat— seductress trained in forty styles of hand-to-hand combat

Vinkat—self-built semi-cyborg with superhuman powers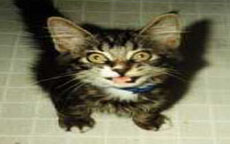 THE ACCIDENT…
An explosion at the lingerie factory rains nylon toxins upon the city. The seething synthetics disfigure those they do not kill; house cats gain human consciousness and our heroes are imbued with frightening powers. Recognizing an appetite for mayhem in the newly cognizant felines, the band trains a gang of Terror Kitties to be their ruthless bodyguards. The band knows it is time to seize control of the hapless city.
TACTICS OF REVOLT…
The band infiltrates local hangouts, seeking to gain telepathic control over the mutated populace. They manipulate the brain chemistries of the crowds at the Casbah, Homer's, Megalopolis, Brick by Brick, Joe & Andy's, and the now-defunct Velvet. As the years pass masses of zombielike mutants rally behind the band, embracing the charismatic foursome as their unquestioned leaders.
METHODS OF MADNESS…
Each Nylon-Coated Cat is proficient with multiple instruments of mass manipulation, but each has their favorite. The smooth Lokat and maniacal Dr. Rokat specialize in guitar yowlings. Zancat hypnotizes with bass grooves, and the cyborg Vinkat is an indefatigable drum machine. To confuse their enemies, the Cats switch instruments regularly, also employing flutes, junkyard percussion, moog, and dulcimer for maximum musical effect.
GOOD OR EVIL?
The Nylon Coated Cats' power over the city's mutants continues to grow. With the release of a demo CD and a full-length album on the way, only one question remains: will the Nylon-Coated Cats destroy the corporate pig-dogs who oppress the city, or will they employ their cult-like following for their own decadent pleasure? Find out for yourself by contacting:
San Diego, CA 92101
http://www.nyloncoatedcats.com
nccat@angelfire.com
ATTACK, MY KITTIES!!